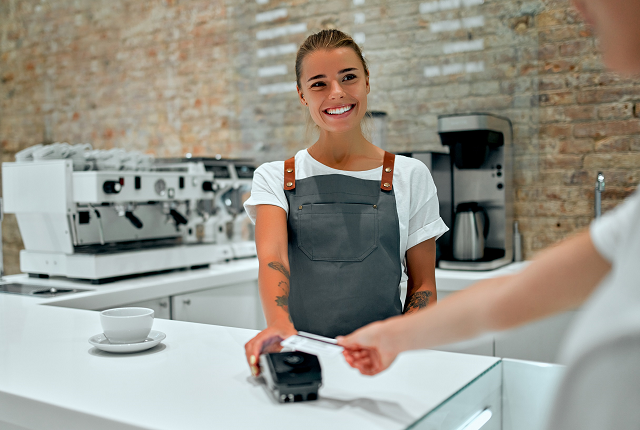 K&H card acceptance
desktop and mobile POS terminals for card payments
virtual POS (VPOS) terminals for online payments
innovative, unattended payment solutions
K&H Payment Services offers merchants and service providers comprehensive, reliable and innovative card acceptance services that range from physical POS terminals to online payments and unattended payment solutions.
acceptable card types
bank cards with card settlement provided by K&H:
MasterCard products: MasterCard, MasterCard Electronic, Maestro
VISA products: VISA, VISA Electron, VPay
JCB
bank cards with settlement provided by other providers:
other cards:
cafeteria cards (e.g. Első Magyar Cafeteria [First Hungarian Cafeteria] Card, OTP Cafeteria card)
health fund cards
Széchenyi Leisure (SZÉP) Cards issued by any provider (K&H Bank, MKB Bank, OTP Bank)
why choose us?
We provide a comprehensive set of card acceptance services ranging from contracting and installation to training and uninterrupted day-to-day operations:
we provide merchants with POS terminals and all the additional items (POS labels, logos, user manual) that are necessary to start K&H card acceptance
our partners install the POS terminals and provide on-site training on how to use the terminals
we provide a 24-hour call centre with live operators to ensure that the acceptance process is uninterrupted
contact and company information
| name | K&H Pénzforgalmi Szolgáltató Kft. (K&H Payment Services) |
| --- | --- |
| head office address | 1095 Budapest, Lechner Ödön fasor 9. |
| correspondence address | K&H Pénzforgalmi Szolgáltató Kft. 1851 Budapest |
| central telephone number | +36 1 328 9400 |
| fax | +36 1 328 9401 |
| central e-mail address | khpos@kh.hu |
| central sales e-mail | saleskhpos@kh.hu |
| central e-mail address for complaints | reklamaciokhpos@kh.hu |
| company registration number | 01 09 338123 |
| court of registration | Fővárosi Törvényszék Cégbírósága |
| tax number | 26666600-4-43 |
| operating licence number | In accordance with Act CCXXXV of 2013 on Payment Service Providers, K&H Pénzforgalmi Szolgáltató Kft operates as a payment institution under the supervision of Magyar Nemzeti Bank (the National Bank of Hungary, registered seat: 1054 Budapest, Szabadság tér 9., customer service: 1013 Budapest, Krisztina krt. 39.); its operating licence number is H-EN-I-567/2020 (dated: 17.09.2020). |
| the ownership structure of K&H Payment Services | ČSOB (Československá obchodní banka a. s.) at 100% |
| statutory auditor | PricewaterhouseCoopert Könyvizsgáló Kft |
Any questions about starting bank card acceptance?
Send us an email to sales.khpos@kh.hu.